Posted by Kristen Dragotto on Nov 28th 2020
Riegels Become Area's First Large-Scale Hemp Farmers
By Kristen Dragotto dragottok@emissourian.com
November 14, 20201 of 3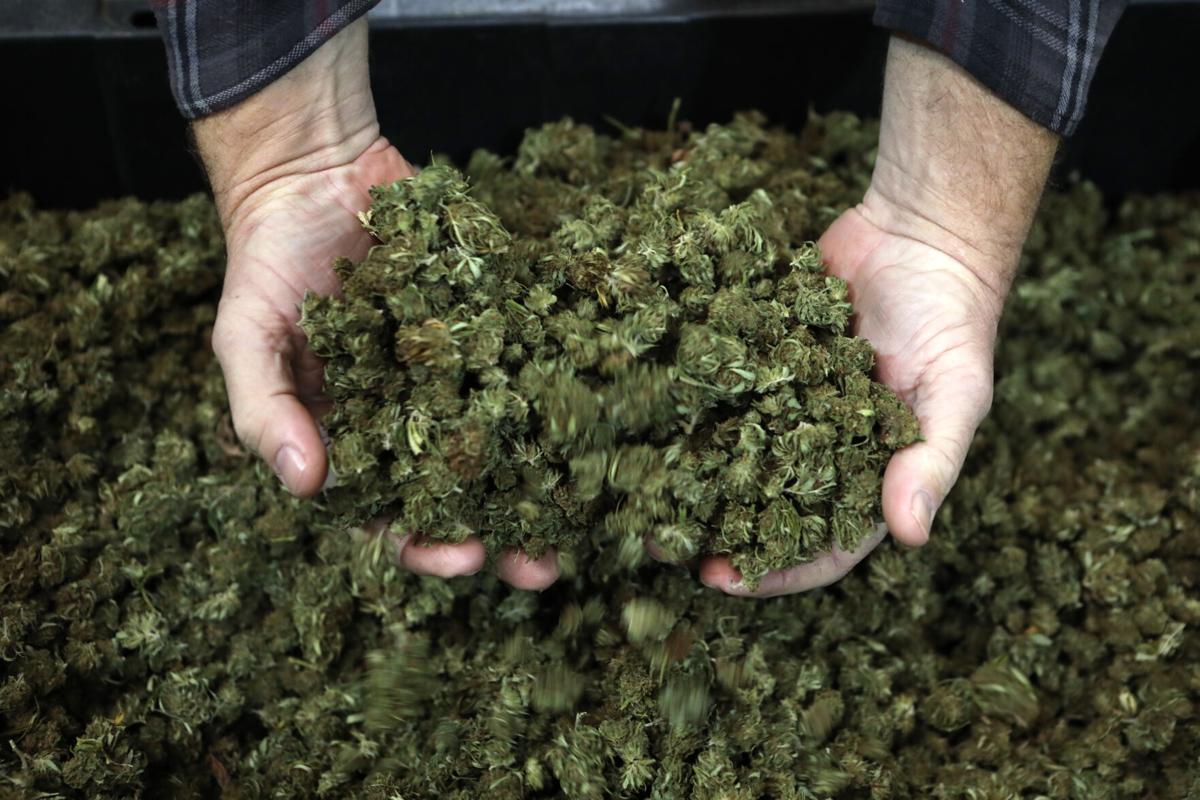 Jon Riegel scoops up dried hemp after it's been through a trimmer Thursday, Nov. 12 near Washington.
Missourian Photo/Julia Hansen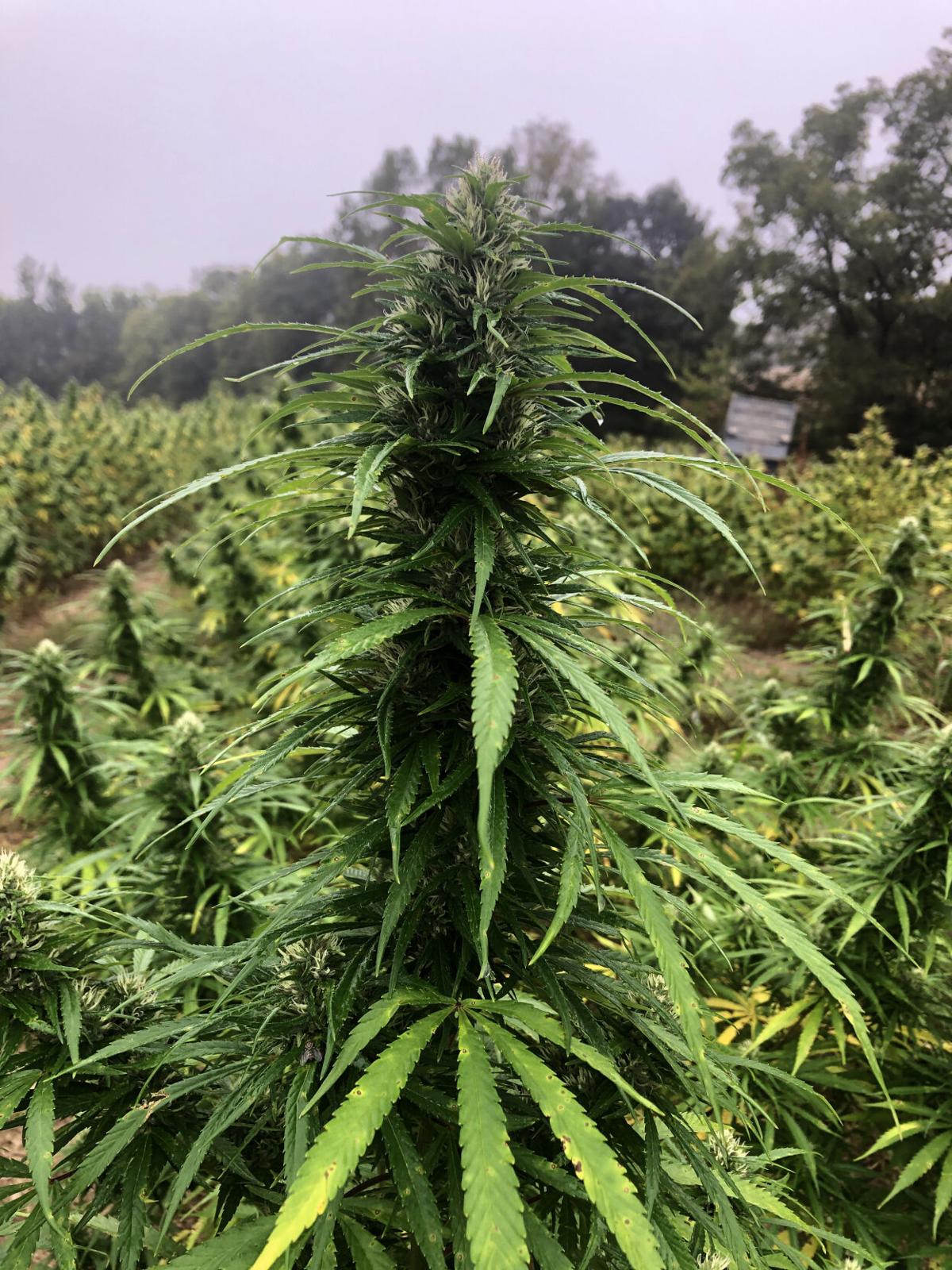 Hemp plants grow in a field at Riegel Farm in Washington. The Riegels finished harvesting their first hemp crop about two weeks ago.
Jeff Riegel, left, and his cousin Jon stand next to their hemp crop Thursday, Nov. 12 near Washington. They are the owners of South Point Hemp.
Missourian Photo/Julia Nestled along the eastern banks of Dubois Creek is Riegel Dairy, a 73-year-old dairy farming operation that is pioneering a new future in hemp.
"Overall, it has been a rough five years (for the dairy market)," said Jon Riegel, a grandson of Fred and Alice Riegel, who received the farm's first dairy cow as a wedding gift. "We were looking for other revenue to keep the farm going."
Brian Riegel, brother to Jon, oversees the Holstein dairy operation. He said the last four years the dairy market has experienced revenue declines of 20 to 25 percent.
With more than 1,000 acres of rural Washington farmland, Riegel Dairy, which continues to be home to 680 dairy cattle, is now one of nearly 200 registered hemp producers in the state, according to the Missouri Department of Agriculture. The Riegels also raise traditional row crops of wheat, corn and soybeans on 850 acres.
The Riegel family became interested in the hemp industry when Jon Riegel purchased a hemp flower from Missouri Hemp Co. in Warrenton in fall 2019. He said he quickly realized the benefits of hemp after making it into an oil.
"I was taking two Aleve in the morning and at night," said Jon Riegel, who was taking the medication for general aches and pains. "I no longer have to do that."
Hemp, not to be confused with cannabis or marijuana, was legalized in 2018 following the passage of Senate Bill 133 in the Missouri General Assembly. For the first time in nearly 70 years, farmers in Missouri could grow hemp, which was previously legal in the U.S. and commonly found on farms in colonial, antebellum and post-Civil War America.
Hemp is a sativa plant, which contains more cannabidiol (CBD) and minimal tetrahydrocannabinol (THC), the compound that creates the high cannabis users experience. It is also different than industrial hemp, which is used to make clothing, paper, lotion and hemp oil.
That purchase provided the Riegels an introduction into a booming industry. Today, the Riegels — including Jon, his father, Ken, brother, Brian, uncle, Rick, and cousin, Jeff — have obtained a state permit to grow hemp.
The family purchased seeds to grow their 60 "mother plants." Mother plants provide the starts for the 11,000 clones that the Riegels grow on the farm. Each of the seeds for the mother plants cost around $5, and the Riegels said they have saved time and money by cloning the plants themselves rather than purchasing new starts, which can cost between $5 to $10.
"It was a lot of experimenting and learning about how the plants work," Jon Riegel said.
Nine acres of the Riegel Dairy are allocated to the cultivation of hemp.
The Riegels said they started planting the nine acres in June and the two-month harvest season concluded in October.
"It takes a lot of work and man hours," Jon Riegel said, because it is farmed by hand.
According to industry publications, farmers can expect to harvest around 1,000 pounds of hemp seed per acre of hemp. Some hemp farmers have reported yields of 1,500 to 1,600 pounds per acre depending on how many seeds are planted.
While the plants are in the ground, Riegel said it is the responsibility of the farmer to keep a record of the individual plants.
Prior to the harvest, the plants are tested for THC levels by a Missouri Department of Agriculture sampler or inspector. The plant must have less than three-tenths of THC.
"After it's tested and it can be harvested, anyone can have it and drive around with it legally," Jon Riegel said.
Following the harvest, the plants are dried and processed in a similar fashion as traditional tobacco crops.
Rather than sell their plants to another company, Jon and Jeff Riegel have opted to start their own business, providing CBD products. The cousins created South Point Hemp, a self-funded endeavor, which produces CBD oil, an anti-inflammatory, and kush, a smokeable product the Riegels said can be used to help reduce stress, anxiety and depression.
Hemp plants come in different strains, and each carries a distinct taste and sensation. South Point Hemp's offerings include Cherry Wine hemp, Mountain Blizzard hemp, Mountain Mango hemp and Quick Kush hemp.
The Riegels have largely relied on word-of-mouth and a newly launched website, southpointhemp.com, to promote their products.
South Point Hemp also will soon have a production and process center in Union.
In the meantime, the Riegels are hoping to combat the misconceptions that continue to plague the hemp industry, which was once thought essential to the American farmer as evident by a World War II-era federal program, "Hemp for Victory," aimed at encouraging farmers to grow hemp to help with the war effort. Hemp was used then to help construct riggings on U.S. Navy ships.
You can Purchase the products at hempcbdsuperstore.com and Missourihempco.com